There are a few online lottery services out there, but not all of them are really recommendable. We have checked them all for you, and in our comparison of the various sites, RedFoxLotto has come out as the best. So if you do not like our site, we recommend RedFoxLotto. As you can see, they are also a lottery ticket messenger service, and they operate in a similar way as we do.
Our test results

The first thing we check is whether the site in question buys actual tickets, or whether they are offering a bet on the outcome of the lotteries. There is an important difference between the two models: If they buy an actual ticket, then you have a claim against the lottery itself. Technically, you can pick up your ticket from RedFoxLotto and travel to the country where the lottery is held, and get paid there. Not that you have to do this (RedFoxLotto will handle your payout by the lottery commission for you), but you have the option. With the betting model, your claim is toward the site you ordered your ticket at. They probably have an insurance policy against players winning big, but what if the insurance does not pay? What if the won amount is so high that the insurance does not cover the risk?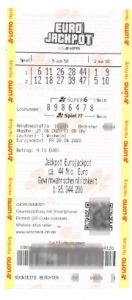 So, with RedFoxLotto, you definitely get a real ticket, which is important.
The next aspect is whether the buying process is simple and straightforward. RedFoxLotto has a website that makes that extremely easy, no matter if you are on your laptop or your mobile phone. Easy access to the most important info and a buying process that only requires a minimum of clicks (and personal information) make their website the best we have tested.
Available lotteries – with 18 lotteries you can choose from, there is no lack of options. All the lotteries with the largest jackpots are present, plus some lesser-known lotteries. What we like is that RedFoxLotto has chosen to add some lotteries that have relatively small jackpots but excellent odds. Those are ideal for players with small budgets, who want a better-than-average chance to win – even if the price that they can win is under a million euros or dollars. Of course, the best-selling lotteries are still Powerball, Mega Millions, Euromillions, and Eurojackpot – all of which are available there. But it is good to have options, right?
Payment methods – most people use the classic credit card payment method to pay for their lottery tickets, but it is good to have options. RedFoxLotto offers instant bank transfers (from a number of European countries), Skrill, Neteller, and various cryptocurrencies, and they are adding new payment providers on a regular basis.
Customer service – although the process of buying tickets is quite simple, you may have questions or issues. Most of them will be answered in their FAQ section, but if you cannot find your answer there, you can always contact customer support. RedFoxLotto support usually responds within 24 hours, and they are quick to fix any issue. We tested them by sending a few questions, and it never took them more than 12 hours to answer.
Review Summary
This is definitely a trustworthy site. We love the uncluttered platform and the straightforward process of creating a customer account. If you want to play international lotteries online, RedFoxLotto should be your first choice. Click here to check them out.