Why Superenalotto?
Have you been wondering how you can buy Superenalotto tickets from outside Italy? Superenalotto is one of the more popular lotteries on the European continent. Not surprisingly, players around the world regularly place bets on the lottery.
At jackpotlotteryonline.com we give players access to top international lotteries like Superenalotto. We make it possible for you to buy tickets, check draw results and access your wins.
With the proliferation of global lotteries, why would a player choose to place a bet on Superenalotto? We will touch on some of the reasons that Superenalotto is rapidly becoming the lottery of choice among punters. If you are in a hurry to place your bet, you can visit us now for a chance to win big on Superenalotto.
Superenalotto has amazing jackpots
The number one reason why players love Italy's Superenalotto is probably because of the amazing jackpot prize. Interestingly, the jackpot starts at a minimum amount of €2 million. That does not seem like an impressive figure when you consider that lots of lotteries offer that amount.
The selling point though is that there is no cap on the Superenalotto jackpot. If there is no winner after a draw, it rolls over and keeps on rolling over after every draw, until a winner emerges. To drive this home further, the Superenalotto lottery has three draws a week. There is almost no limit to how many times the jackpot can rollover.
In fact, the jackpot rolled over so many times a few years back that the record jackpot was €209.1 million in 2019.
Did we mention three draws a week?
When you play Superenalotto, you have three chances to win big each week. That is because the Superenalotto lottery holds its draws three times a week on Tuesdays, Thursdays and Saturdays.
That means that if there is no winner, the jackpot amount grows faster. The Superenalotto jackpot could have tripled in size in just one short week. That is enough to get punters hurrying to place their bets.
Don't want to lose out on the next draw? Why not head over to jackpotlotteryonline.com and place your bet on Superenalotto now? You never know when lady luck will favour you.
Top 5 Superenalotto winners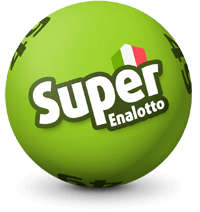 Still not sure about whether you want to place a bet on the Superenalotto lottery? No problem. You will get spurred on once you read about the mouth-watering amounts previous winners have taken home.
The largest jackpot was won in 2019 by a lottery syndicate and the amount was €209.1 million. We have already mentioned that briefly, but there's something else we did not mention. That jackpot was won by a single ticket holder. Can you imagine going home with over two hundred million euros?
The second largest jackpot was won by a lottery syndicate in 2010 and the amount was €177.7 million. This is followed by a jackpot of €163.5 million that was won by a single ticket in 2016. The next largest jackpot was won by another single ticket holder in 2009 and the amount was €147.8 million. Finally, two tickets shared the jackpot prize of €139 million in 2010.
How to play Superenalotto
To play Superenalotto, pick six main numbers between 1 and 90. You can choose multiple lines of numbers to increase your chances of winning the lottery. Next, choose the number of draws you want to enter. You can decide to enter each draw every week for the next 5 weeks if you choose. The more draws you enter, the higher your chances of winning a prize.
Also, there is what is known as the SuperStar, which is an option that helps to improve your chances of winning. You can also buy the "Jolly number" which is picked from 1 to 90. The Jolly number does not affect the jackpot but is used in deciding the winner of the second prize category.
Once you have picked your numbers, pay for your ticket and wait for the draws. When you register with us, we automate the process for a more seamless experience. We take the stress out of the operation so that you can enjoy the fun with none of the hassles.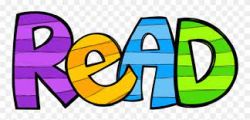 Pick winning lotto numbers manually or by using an RNG
How to generate winning lotto numbers?  read more
What are the odds of winning the Superenalotto?
Generally, the lottery is not known to have great odds for players. The truth is that the odds of winning are not very high. Interestingly, that makes it much more exciting to play the lottery. Because winning when it seems as though the odds are not in your favour gives players a high. It is also a wonderful way to know that you have luck on your side.
The odds of winning the Superenalotto jackpot are 1 in 622,614,630. But, there are 6 prize categories and an Instant win category of €25. When you take those into consideration, then the odds of winning any prize is 1 in 16.
Any punter would agree that those are incredible odds that favour the player.
Superenalotto prize categories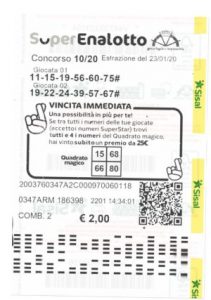 During the draws, six numbers are randomly chosen from a drum that has balls with numbers 1 to 90. Any ticket that matches the drawn numbers wins the jackpot.
The Superenalotto jackpot prize starts at €2 million but usually ends up much higher than that because it rolls over. The other prize categories are determined according to the percentage of the funds available. So, it is not possible how much would be distributed at each draw.
6 numbers – jackpot (17.4% of total funds)
5 + Jolly Number – 13%
5 numbers – 4.2%
4 numbers – 4.2%
3 numbers – 12.8%
2 numbers – 40%
To get a better perspective, here is the average amount per draw.
6 numbers – €92,056,091.66
5 + Jolly number – €594,951.95
5 numbers – €49,736.38
4 numbers – €354.83
3 numbers – €27.15
2 numbers – €5.48
Play Superenalotto on the internet
The Superenalotto is an Italian lottery and entries are only sold in Italy. Thus, if you live outside Italy the only way to get access to Superenalotto would be to buy an entry online. You can go that from an internet lottery vendor like jackpotlotteryonline.com
Benefits of buying Superenalotto entries online
You get quick and immediate access to the lottery
It is super convenient as you do not need to leave the comfort of your home
It is also safer because your ticket is stored digitally. That is important because it is the only way to claim your win.
No need to miss your win because we will alert you immediately if you win any prize
You can easily withdraw any win online without going anywhere
Sign up with us to play Superenalotto
If you live outside Italy and you want to buy access to the Superenalotto lottery, you can do that by signing up with us. We provide a concierge service that gives you immediate access to top international lotteries including Superenalotto.
Our goal is to make the lottery experience a pleasurable experience for our customers. We take the stress out of the simple things, leaving you to enjoy placing your bets. Buy your lottery tickets with us now for a chance to win big on Superenalotto.